MP Biomedicals, Inc
MP Biomedicals is a worldwide corporation committed to the development, manufacturing and marketing of life science products. The company is dedicated to providing scientists and researchers with the most innovative and highest quality tools, combined with superior service to aid them in their quest for ground-breaking discovery and turning the hope for life-changing solutions into a reality. MP Biomedicals offers a line of more than 55.000 life science research and diagnostic products (in the field of Molecular Biology, Cell Biology, Immunology, Biochemicals, etc...) that support academic and government research institutions as well as pharmaceutical and biotechnology companies.
Homogenizers and Adapters
MP Biomedicals FastPrep® System
---
Lyse Your Toughest, Hardest and Most Difficult Biological Samples
MP Biomedicals, the leader in sample preparation provides a complete range of products for all steps of your research experiment. From lysis, extraction through purification of DNA, RNA and proteins, as complex as the sample can be, we offer you the best solution to achieve reliable results for your work! FastPrep homogenizers pulverize samples through simultaneous beating of specialized Lysing Matrix beads.
These systems with interchangeable sample holders allow unique flexibility in terms of sample size and temperature (ambient or cryogenic conditions). Combined with the widest selection of Lysing Matrix materials and complete isolation kits, FastPrep® will handle your most difficult samples including plant, root, soil, waste water, skin, tissue, seeds, and feces within a few seconds or less…every time !
More
Experience High Speed Lysis on the most resistant samples with the FastPrep-24™ 5G.
Over 20 Years of Excellence and Innovation in Homogenization – Experience the new FastPrep-24™ 5G.
Often imitated. Never duplicated.
Most Powerful - Highest speed available improves the quality, yield and purity of the resultant analyte
Best Performance - Delivers the most DNA, RNA and Proteins from any sample type including the most resistant samples in 40 seconds or less easily and conveniently
Exclusive Software & Touchscreen - Intuitive, easy touch screen programming or choose from 70 recommended pre-programmed optimized application protocols
Most Versatile - Largest variety of interchangeable sample holders, process from 2 - 50 mL, ambient or cryogenically
Shortest Processing Times - Lyse sample quickly in 40 seconds or less
Highest Yields - Obtain the highest quantities and purity of biologically active DNA, RNA and Proteins
Best Complete Solution - FastPrep-24 5G System, FastPrep Kits and Lysing Matrix Compositions & Tubes are optimized to provide the highest quality results from any sample type
Discover our complete homogenizers product range from Low to High-throughput
---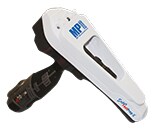 SuperFastPrep-2™: the portable sample testing for 2x2ml tubes grinding

FastPrep-96™: the high-throughput homogenizer for 2x96 well-plates
Easily interchangeable adapters to process any sample size
---
Lysing tubes & Extraction Kits
MP Biomedicals FastPrep® Lysing Matrices
---
Superior efficiency for difficult-to-lyse sample types
With the use of MP Biomedicals Lysing Matrices in combination with the FastPrep® Instrument expect the best results for your sample preparation. With over 16 unique components FastPrep® Lysing Matrices are impact-resistant tubes containing specific beads to meet any of your lysing, grinding, and homogenization needs. FastPrep® Lysing Matrices are available in 2ml, 4.5ml, 15ml, 50ml and 250ml sizes as well as 96-well plates. Although they are designed to be used with the FastPrep® homogenizer, the standard size of the tubes allows their use with many other bead beaters.
Ready-to-use protocols for DNA and RNA isolation from any sample!
FastPrep® Isolation and Purification Kits deliver high quality DNA, RNA and proteins, ready-to-use in any downstream application. These kits contain optimized Lysing Matrix tubes for the sample homogenization step and reagents for further DNA, RNA or protein isolation. Yields and processing times are greatly enhanced through the use of the FastPrep® homogenizers.
Food & Lipid Analysis
MP Biomedicals SafTest™ - Quality Analysis System
---
An Ideal Analytical Platform for Food Quality Testing
Strong with over 10 years of experience, MP Biomedicals SafTest™ is a benchtop system that offers a quick, accurate and affordable means of determining the freshness and quality of material at any time during production process. Freshness of incoming raw materials is critical to the quality of your end product. Equally important is freshness and shelf-life determination of your finished goods. The SafTest kits and testing methods are AOAC certified and in alignment with AOCS test methods.
Protect and Extend your product shelf-life with our SafTest™ System
Rapid, Reproducible
Eliminate extractions in Fume Hoods
Sample to results in 10 minutes
Low level of toxic hazardous material
The SafTest™ method enables you to determine the oxidation products of fats such as peroxides, malonaldehydes and alkenals.
No extraction required
Benchtop system
Little of toxic or hazardous materials
SafTest Kits™
PeroxySafe™ Test Kit – This test measures lipid peroxides (indicators of primary oxidative degradation). The test has a sensitivity range of 0.01–50meq/kg. PeroxySafe™ replaces the AOCS peroxide test.
AlkalSafe™ Test Kit – This test measures alkenals (an indicator of secondary oxidative degradation associated with off-odors and off-tastes). The test has a sensitivity range of 0–1,200μmol/kg. AlkalSafe™ replaces the AOCS p-Anisidine test.
FASafe™ Test Kits – These tests measure free fatty acids (an indicator of hydrolytic degradation). The tests have a sensitivity range of 0.2–20% oleic acid. Both tests replace the AOCS FFA test.
Percent Fat Test Kit –This test measures the fat content in foods. The test has a sensitivity range of 0.05–90% fat. Percent Fat Test Kit–This test measures the fat content in foods. The test has a sensitivity range of 0.05–90% fat.
Top Products
MP Biomedicals - Dextran Sulfate Sodium
---
Validated by 3,000+ scientific publications
The Gold standard in Colitis Research
MP Premium Dextran Sulfate Sodium (DSS) - The World's Most Potent Intestinal Inflammation Reagent. DSS is a polyanionic derivative of Dextran offered at the highest quality, purity and reproducible form, which enable its use for multiple applications. Oral administration of DSS in the drinking water of mice leads to chronic colitis. MP Premium DSS induced colitis model is used to assess the therapeutic potential of treatments for IBD.
Highest purity (99%) and stability
Offers Highest Sulfur content (18-20%)
< 0.2% free sulfate
Highest efficiency
Best value in the industry.
MP Premium DSS technical advantages:
Highest Sulfur Content: 19%
Highest Clarity: +104° of specific rotation
Lowest PH: 6.2 at 1% solution
Discover the complete Dextran product range
| MP Dextran Sulfate Sodium | Molecular Weight | Colitis | Molecular Biology | Anti-Viral | Anti-Coagulant | Anti-Lipemic | Cosmetics |
| --- | --- | --- | --- | --- | --- | --- | --- |
| | 6,000 - 8,000 | | | ✔ | ✔ | | ✔ |
| | 8,000 (Average) | | | ✔ | ✔ | | ✔ |
| | 36,000 - 50,000 | ✔ | | ✔ | | ✔ | |
| | 400,000 - 600,000 | | ✔ | ✔ | | ✔ | |
| | 1,400,000 (Average) | | ✔ | ✔ | | | |
Laboratory Cleaning Agent Trusted by Labs Worldwide
7X™ solutions, available exclusively from MP Biomedicals, are detergents used and trusted for over 50 years by researchers for safe and effective cleaning of laboratory bench and apparatus, whenever a high degree of cleanliness is required. 7X™ cleaning solutions should be of particular value in cell culture laboratories where
Wash away DNase/RNas, bacteria, radioactive contaminates and sticky biologicals.
Manual Washing & Ultrasonic Cleaning
Automatic Washers/Sprayers
Convinient 5% Ready-to-Use Solution
Agarose powders for Electrophoresis
• Basic Agarose Premier: your first price agarose for daily gels & standard analysis. This agarose has high gel strength even at low concentrations. Ideal for routine and rapid separation of DNA and RNA fragments.
• Agarose Standard (low EEO): the optimal agarose for analytical and preparative purpose. Agarose Standard is a very low electroendosmosis agarose (EEO) which is advised for sharp resolution of nucleic acid fragments greater than 1000 bp.
• Agarose High Resolution: the perfect agarose for small DNA fragments. Agarose High Resolution is an intermediate melting and gelling point agarose with twice the resolution capabilities of routine agarose and presenting superior sieving characteristics. Ideal for DNA fragments under 1000 bp.
• Agarose multipurpose or high gel strength Agarose: this is the highest gel strength available especially designed for a wide range of molecular biology techniques.
• Agarose Low Melting Point: this Agarose has finer sieving characteristics than standard agaroses. The low melting temperature enables nucleic acid recovery without denaturation or damage. The agarose will remain in a liquid state at 37°C allowing gel manipulations without prior DNA purification."
The Ultimate in Consistency & Accuracy
MP Biomedicals is well known for providing high-quality growth media in a variety of formulations for every molecular biologist. We specialize in formulations for yeast and bacteria and offer more than a thousand receipes and variations.
MP Biomedicals is the only source of encapsulated growth media. Our patented media capsules eliminate the waste, inaccuracies, and mess associated with weighing out bulk powder.
Each recipe is subjected to extensive quantitative testing, and is Molecular Biology CertifiedTM through qualitative tests such as cell density and plasmid yield.
Easy to use. Simply drop the capsule in water and autoclave
No Mess. No Cleanup
Proprietary media for enhanced cell and plasmid yield
Molecular Biology Certified™ for the highest quality
Wide selection of media formulations, also available in other pre-measured formats
Resources Case Studies
Please select a category below to view the available case studies
Demo Request
Equip your lab with the FastPrep-24™ 5G: the utlimate in cell disruption
The FastPrep-24™ 5G product line offers a complete solution to serve every researcher's entire workflow from lysis to purification of DNA, RNA and proteins. The unique tri-dimensional motion of the instrument, the widest variety of Lysing Matrix tubes, and complete FastPrep™ Purification Kits make the FastPrep-24™ 5G the most advanced sample preparation system available in the market. 10,000 researchers have already acquired a FastPrep™ for their lab!
Unmatched flexibility: Three interchangeable cryogenic adapters for 2mL, 15mL and 50mL tubes.
Grind and lyse any sample in 40 seconds or less
Prevent the increase of sample temperature during homegenization process
Protect thermosensitive molecules from heat degradation
Take advantage of compact and ergonomic equipment
Based on passive temperature control technology the use of CoolPrep™ adapters ensures an efficient cooling of the samples as dry ice placed into the well tray base is in direct contact with the sample tubes. Due to a high heat transfer capacity and FastPrep® precise lysis parameter settings, the samples can be repeatably homogenised with no increase in temperature
Fill out the form to request a free demo today!